BASIC WORK AT HEIGHT TRAINING AND CONTROL MEASURES FOR ASSOCIATED RISKS
THE CONCEPT
Any activity that involves being on, or working at any height at any state of work facility or any other work environment (whether it is above or below the ground) that poses a fall-from-height or fall-into-depth risk refers to
WORK AT HEIGHT.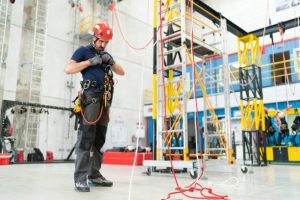 ESSENTIAL TO KNOW WORK AT HEIGHT TRAINING
The person who works at height in any place is required safety first as it involves a high risk to one's life to work at height. Work at height rescue training depends on three main factors 1) To understand the basic working at height tasks and the associated risks and hazards. 2) To understand and identify the common factors that contributes to persons and objects falling from height. 3) To follow the Safety precautions concerning the work performed at heights. Ensure safe designed multiple work at height
(WAH) training courses
that helps the best training requirements for workers, supervisors, and other WAH personnel to ensure effective conduct and oversight of work performed at heights and successful Implementation of safety measures while working on roof or height above ground level and near fragile areas. Our training personals have vast experience and training to perform the work and they are required to carry it out under the WAH guidelines and Regulations in Singapore.
SYSTEMATIC APPROACH FOR WAH TRAINING
1) The first step is to provide adequate safety and health training for workers carrying out WAH before they commence work. 2) Identify the risks and safety measures to ensure that employees can reduce their risk of falls from height. They can be minimized by adopting preventive and protective measures, rescue procedures in cases of emergency. 3) WAH training is a complete procedure that meets the requirements of National & International standards & Statutory protocols. 4) Practice WAH skills and experience that are necessary to select and set up working at heights equipment ready for safe use and operation. 5) Encouraging awareness of the risks associated with working at heights by providing a simple and interactive training experience for employees, including supervisory and managerial staff. Directing workers to take steps to avoid prevent or reduce the risk of falls from height. 6) Permit-to-work (PTW) is issued in respect of the hazardous work at height if the carrying out of the hazardous work at height poses or is likely to pose a risk to the safety and health of the persons at work in the factory, they may order the hazardous work at height to cease immediately and revoke the permit-to-work.
Ensure safe Consultancy Pte Ltd is conducting Safety courses
Few ways to register the course as below training
@ensuresafe.sg    |     
Call Us: 
96805878    |      
www.ensuresafe.sg
Click below and check the link
Course schedule details :
https://youtu.be/WORiJW7yIOI
Course Registration : 
https://www.ensuresafe.sg/course-registration